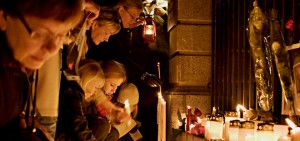 The Finnish-Russian Civic Forum, Finnish PEN and the Finnish Section of Amnesty Internatiol are organizing a panel discussion and a demonstration in memory of Anna Politkovskaya on friday 7.10. The title for the panel is There are things in Russia we need to talk about and it's held in the Little Parliament (Arkadiankatu 3).
SCHEDULE
11:00-12:00 Coffee
12:00-12:10 Ilkka Kantola, Parliamentary Human Rights Group Chairman
12:10-12:30 Introduction of Panelists (mod Kerkko Paananen)
* Anu Tuukkanen (Amnesty)
* Anton Ryzhov (Committee Against Torture)
* Elisabeth Nordgren (FINROSFORUM)
* Jarkko Tontti (Finnish PEN)
* Maxim Gromov (Union of Prisoners)
* Musa Lomaev (Chechen diaspora)
* Oksana Chelysheva (Russian-Chechen Friendship Society)
* Suvikki Silvennoinen (ForMin HR Desk) (TBC)
12:30-12:50 Musa Lomaev's story
Musa is a Chechen refugee who was abducted in Chechnya in 2006, tortured, and forced to sign a confession of being involved in
terrorism. Anna Politkovskaya wrote an article highlighting his case, which, in effect, saved his life.
12:50-13:30 Freedom of Speech
The state of freedom of speech in Russia five years after Anna Politkovskaya's killing has not improved. Indeed, the possibilities for freely exercising one's freedom of speech have diminished in Russia. The panel will discuss why the need for journalism like that of Anna Politkovskaya is even more acute now than it was when she was alive.
13:30-13:45 Q&A Session
13:45-14:00 Break
14:00-14:45 HR Work in Russia Today
Maxim Gromov and Anton Ryzhov will talk in detail about their own work and that of the organisations they are affiliated with. The panel will discuss ways of supporting the work of HR defenders in Russia. Amnesty will highlight EU mechanisms for supporting and defending HR defenders.
14:45-15:00 Q&A Session
15:00 Closing
15:00-16:00 Possibility for Media Interviews
We will proceed to street outside the Russian Embassy (Tehtaankatu) for a demonstration at 6pm. Short speeches can be held at the event.