The Writer's Association Finnish PEN organizes an event with PEN America on Monday, 16 July 2018 at 2–4.00 pm on the Esplanadi stage. The event will comment on the summit of Presidents Donald Trump and Vladimir Putin.
We will hear writers' speeches on the themes of the day and about the freedom of expression.  On the stage reading novels are the internationally famous authors Sofi Oksanen, Sirpa Kähkönen, Helena Sinervo and Nina Honkanen. They will read, among others, Oleg Sentsov's short stories.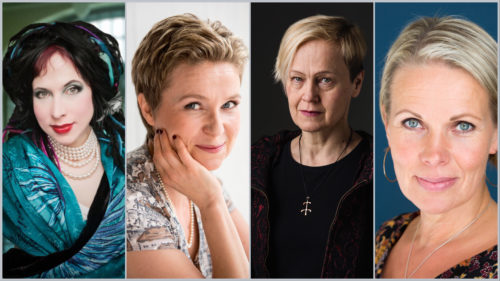 In addition, PEN American representative Polina Kovaleva and Oleg Sentsov's advocate and cousin, journalist  Natalia Kaplan will speak at the event. Oleg Sentsov is a Ukrainian film director and author who received a 20-year prison sentence in Russia four years ago. https://pen.org/rapid-action/russia-oleg-sentsov-on-hunger-strike/
Musicians performing at the event are Katriina Honkanen, Esa Eloranta, Tumppi Varonen and Leo Kylätasku.
This is a cultural event, not a demonstration. With this event Finnish PEN wants to underline the importance of freedom of expression and literature in the context of the US-Russian Summit.
The event is supported by PEN International, PEN St. Petersburg, and PEN America.
The Facebook page for the event: https://www.facebook.com/events/163899241150979/
The Venue:
The Espa Stage, Pohjoisesplanadi 1, 00130 Helsinki.
The stage is located in the center of Helsinki opposite Kappeli restaurant in the Esplanadi park.
You can easily reach the place by public transport, if it is available during Helsinki summit.
Metro: stop at Helsinki University.
You can also check public transport links from the Route Guide.
There is no parking available in the park.
Nearest parking garages are:
EuroPark Kluuvi, Fabianinkatu 27 / Puutarhakatu 1
Q-Park Kasarmitori, Fabianinkatu 17.
There is unobstructed access to the Esplanadi stage area for the public.
There are no toilets for disabled. There is an accessible toilet in Kappeli restaurant opposite of the Esplanadi stage.