80. PEN International congress in Bishkek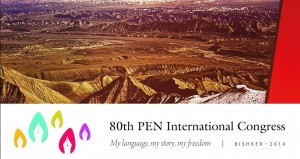 The 80. PEN International congress in Bishkek, Kyrgyzstan, was held 29.9.-2.10.2014. The Finnish PEN delegates were vice president Marianne Bargum, Iida Simes, who's charing Writers in Prison Committee and Leena Parkkinen of Women Writers' Committee. Journalist and author Anna-Lena Laurén, Finnish PEN member, was invited to the event as a specialist of Kyrgyzstan. The congress was participated by two former presidents of Finnish PEN, also: PEN International Treasurer Jarkko Tontti and Elisabeth Nordgren from Search Committee and the Finnish Writers for Peace Committee.
PEN International Bishkek Assembly resolutions published
To access resolutions adopted by the Assembly of Delegates please visit: http://www.pen-international.org/campaign/how-to-campaign/resolutions-adopted-at-congress-bishkek-kyrgyzstan-2014/
In addition to the resolutions, the following decisions were taken during the Bishkek Assembly:
1. Margie Orford (South Africa PEN) and Teresa Cadete (Portuguese PEN) were elected to the Board for a three-year term. Yang Lian and Sylvestre Clancier came to the end of their time on the Board of PEN International.
2. Simona Škrabec, (Catalan PEN) was elected Chair of the PEN International Translation and Linguistic Rights Committee for a three-year term.
3. Four new Centres were elected as a member Centres of PEN International: Eritrean PEN, Honduras PEN, Liberian PEN, and Wales PEN Cymru.
4. The Pakistani PEN Centre was declared closed.
The congress in pictures