Writer and active PEN International member Judyth Hill is visiting Finland.
In addition to being a writer, Judyth Hill also lectures and she is the President of PEN San Miguel. During Judyth Hill's visit to Finland, Finnish PEN is organising two events, where you have the opportunity to meet this truly inspiring PEN member:
On 7 May we are organising a poetry workshop, led by Judyth Hill. The workshop is based on a concept that Judyth has applied in her workshops in different parts of the world. During the workshop we will work to the theme: Write the change you want to see – put into words what you love. As material we will use Judyth Hill's internationally acclaimed poem Wage Peace.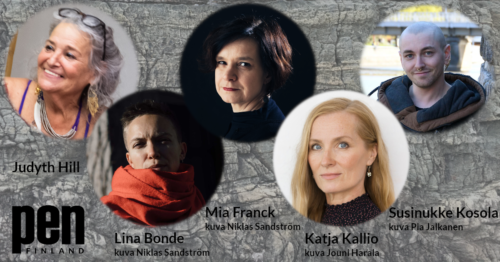 Aino Kallas's name day
On Tuesday 10 May we will celebrate the name day of PEN Finland's founder Aino Kallas.
After two years of the pandemic, it is now our pleasure to organise the traditional Aino Day! To celebrate that we can once again gather for literary purposes, we have the honour of hosting one of PEN International's true driving forces. This year's keynote speech will be given by writer Judyth Hill from Colorado, USA. The writers Lina Bonde, Mia Franck, Katja Kallio and Susinukke Kosola will contribute readings. There will also be presentations by the Finnish Literature Society and PEN Finland.
Time and location: Tuesday 10 May, 16.00 – 18.00, at the Finnish Literature Society, Hallituskatu 1, Helsinki, entry exceptionally from Mariankatu.
Participation in the event is free. No prior sign-up required. The hall at the Finnish Literature Society has space for 100 people. You are warmly welcome!
Organisers: Finnish PEN in collaboration with the Finnish Literature Society, the Society of Swedish Authors in Finland, the Union of Finnish Writers, Lapinlahden Lähde and the Aino Kallas Society.