The appeal has been updated 15 Nov, 8 Aug & 19 May 2018. The original was published 7 August 2017.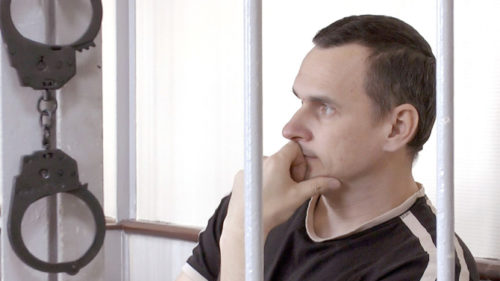 Prominent Ukrainian writer and filmmaker Oleg Sentsov arrested four years ago and sentenced to 20 years in prison on spurious terrorism charges after a grossly unfair trial by a Russian military court, marred by allegations of torture. He was on hunger strike from 14 May 2018 to 6 Oct to urge the Russian authorities to release all Ukrainian nationals currently imprisoned in Russia on politically motivated grounds. Oleg Sentsov was  Finnish PEN joins PEN International's call to free Oleg Sentsov immediately.

Take action for Oleg Sentsov
Urging the Russian authorities to release Oleg Sentsov immediately; should there be grounds to prosecute Oleg Sentsov on charges of terrorism, these should be heard by a civilian court under Ukrainian law, as required by international humanitarian law. Any testimony obtained through torture or other ill-treatment must be excluded from proceedings;
Calling on the Russian authorities to respect Oleg Sentsov's human rights, including the prohibition of torture and inhuman or degrading treatment as it pertains to hunger strike, and his right to medical attention;
Urging the Russian authorities to order an independent and impartial investigation into Oleg Sentsov's allegations of torture and other ill-treatment. Anyone against whom there is sufficient admissible evidence of responsibility should be brought to justice;
Calling on the Russian authorities to return all Ukrainian nationals arrested in Crimea and now held in Russia to Ukraine, and free all held solely for the peaceful exercise of their right to freedom of expression.
Please fill in this form to join in the petition. We will forward it on your behalf.
You can send your own appeals to:
President of the Russian Federation
Vladimir Vladimirovich Putin
Ul.Ilyinka, 23
103132 Moscow
Russian Federation
Prosecutor General of the Russian Federation
Yuri Yakovlevich Chaika
Prosecutor General's Office
ul. B. Dmitrovka, d.15a
125993 Moscow GSP- 3
Russian Federation
Human Rights Ombudsman of the Russian Federation
Tatiana Nikolaevna Moskalkova
ul. Miasnitskaia, 47
107084, Moscow
Russian Federation
Ambassador of the Russian Federation in Finland
Pavel Kuznetsov
Tehtaankatu 1B
00140 Helsinki
rusembassy@co.inet.fi
---
Tampereen Teatterikesä event hosted a play called Burning Doors in August 2017, which is partly based on Oleg Sentsov's experiences. Finnish PEN collected then 109 signatures to free Oleg Sentsov, opened up the online appeal and has been campaingning for Oleg Sentsov ever since.
In August 2018 Finnish PEN addressed the president Sauli Niinistö in an open letter and asked him to raise Oleg Sentsov's case in the discussion with president Putin when they met in Sochi (availabe in Finnish). Niinistö later that he had discussed Sensov with Putin (HS.fi, in Finnish).
In July 2018 Finnish PEN and PEN America hosted an open event during the Trump-Putin summit in Helsinki and called Oleg Sentsov to be freed. Availabe in Finnish only.
Oleg Sentsov's case on the PEN International website
Ukrainian filmmaker Oleg Sentsov goes on hunger stike in Russian prison (Hrodmaske International 16.5.2018)
Letter from Ukrainian film-maker Oleg Sentsov smuggled out of prison (The Guardian 12.6.2016)